Product Catalogue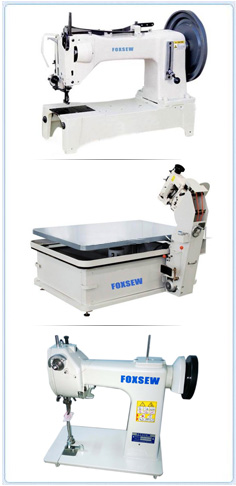 Tubular Ornamental Moccasin Stitching Machine

https://youtu.be/trJY51xKI-U
Video Introduction:

FOXSEW Tubular Moccasin Sewing Machine

Working Video 1: www.foxsew.com/company-video/stitching-machine-for-tubular-moccasin-62.html

Working Video 2: www.foxsew.com/company-video/stitching-machine-for-moccasins-61.html

Characteristics: Stitching machine for tubular moccasin with 1 set-up upon request. Machine with projected arm for stitching overlapping tubular moccasins - with differentiated aligned drop feed with one or two needles pre-settable and adjustable manual ruffling by knee control during working. The machine is equipped so as to make 11 different types of seams. Also it can sew mounted moccasins. The machine is designed for tubular moccasin sewing. 12 sewing patterns can be set according to operator's requirement. All parts were manufactured by HAAS CNC machines, high precision machining parts. Using electronic speed motor speed can be flexible, stop the needle position by computer control.