FOXSEW Automatic Thread Trimming Bottom Hemming Sewing Machine, Automatic Jeans Bottoms Hemming Sewing Machine Unit with Automatic Thread Trimmer
Working Video-1: www.foxsew.com/company-video/automatic-jeans-bottom-hemming-machine-1185.html
Working Video-2: www.foxsew.com/company-video/automatic-jeans-bottom-hemming-sewing-machine-850.html
Working Video-3: www.foxsew.com/company-video/automatic-jeans-leg-bottom-hemming-machine-1186.html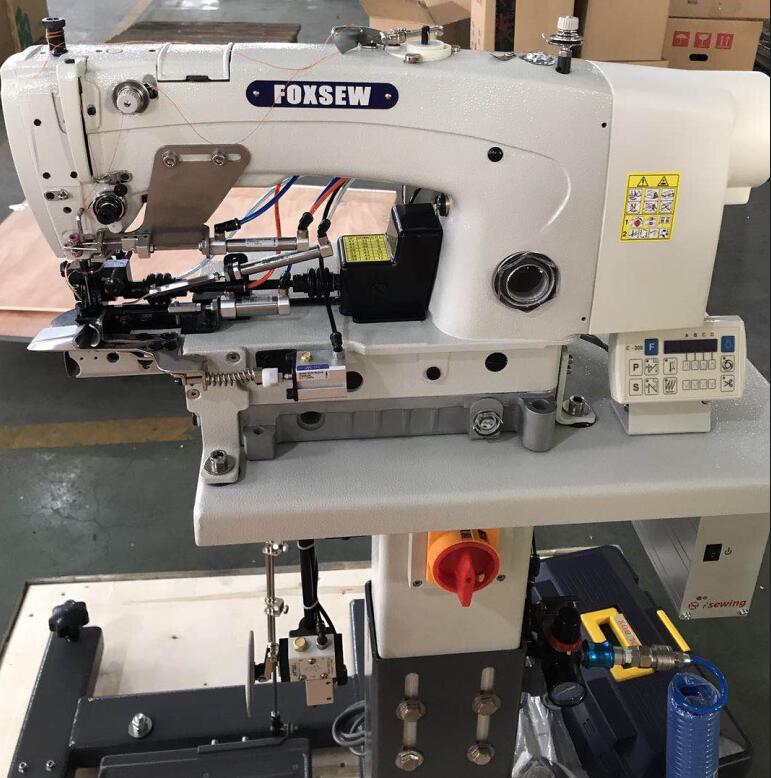 FX63922D: Automatic Thread Trimming Bottom Hemming Machine with Lockstitch
FX63924D: Automatic Thread Trimming Bottom Hemming Machine with ChainStitch
Applications: The machine is suitable for bottom hemming of jeans and leisure trousers.
Features: The machine can produce 1200 pants per 8 hours, The machine adopts newly developed automatic cloth rolling and guiding device on the basis of original automatic thread trimming and presser foot lifting functions. Self compensating right fabric tension mechanism adjusts to inconsistencies in hem diameter. Accurate start and finish of sewing in relation to side and felled seams by photocell provides exact positioning of hem joint. Overlapping of hem joint start and finish seam can be programmed from control panel. Operators can focus on next piece while the machine is sewing. It can improve productivity and release working pressure. Adjustable stitch length from control panel eliminates the need to mechanical change of gears. With a synchronous continuously operating upper and lower puller close behind the needle. Small cylinder arm 200mm, hemming width of the hemming guide 12.7mm.

Machines are ready for shipment to European customers, hope they can enjoy a pleasant trip and make a happy life there with their new family.