FOXSEW Automatic Tape Cutting Machine Hot Knife Multi-function with Punching Hole and Collecting Device
This machine is customized with double hole puncher according to customers special requirments, now it's ready for marriage to our U.K VIP Customers. Hope they can enjoy a happy life with new family.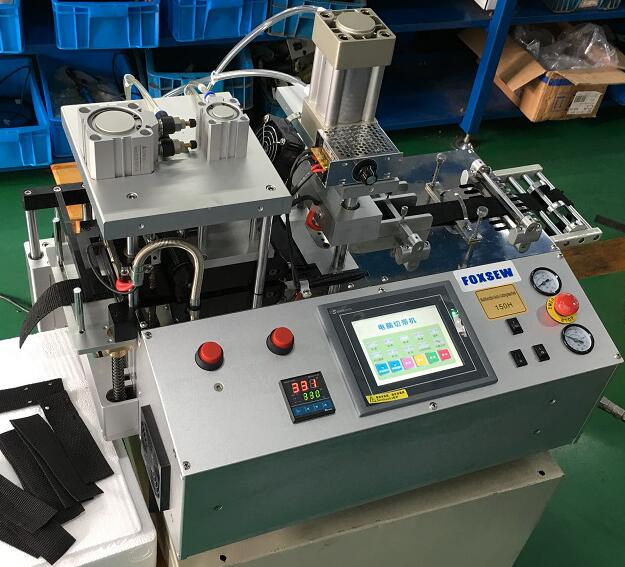 Applications: All kinds of Woven Belt, Webbing, Ribbon Tapes, Zippers, Elastic Bands, VELCRO, Shoelace, Plastic Soft Tube, Computer Cable, Labels, etc...
Working Video 1: www.foxsew.com/company-video/automatic-webbing-cutting-machine-hot-knife-with-hole-puncher-2-holes-punching-device-774.html
Working Video 2: www.foxsew.com/company-video/automatic-elastic-tape-cutting-machine-with-collecting-device-474.html
Working Video 3: www.foxsew.com/company-video/automatic-cutting-machine-hot-knife-with-hole-puncher-2-hole-punching-device-and-collection-device-771.html
Working Video 4: www.foxsew.com/company-video/automatic-elastic-bands-cutting-machine-with-collecting-device-472.html
Working Video 5: www.foxsew.com/company-video/automatic-tape-cutting-machine-with-2-holes-punching-and-collection-device-772.html
Working Video 6: www.foxsew.com/company-video/automatic-elastic-cutting-machine-with-collecting-device-473.html
Working Video 7: www.foxsew.com/company-video/automatic-webbing-cutting-machine-hot-knife-with-2-hole-puncher-and-collection-device-773.html