Product Name: 4 Needle Flat-bed Double Chain Stitch Sewing Machine with metering device
Model NO.: FX1404PMD
Origin: Zhejiang,China
Packing: Cartons
Brand Name: FOXSEW
Product Details: 4 Needle Flat-bed Double Chain Stitch Sewing Machine with metering device
FX-1400 series are a flatbed, multi needles, double chainstitch machine These series are multi-purpose machine for attaching elastic, attaching waistband sewing the front of shirts, attaching line tapes, smocking and shirring etc... Which are ideal for underwear, sportswear, lady's clothes, interior decorated goods(curtains, table-clothes etc...).
Applicable to genenal sewing, for decoration of high grade garment.
1)Easy operation for elastic inserting and attaching on waistband of pants and sportswear.
2)This machine adopt vertical movement of looper, suitable for basic sewing and decoration of high-grade garment.
3)Complete automatic supply system and oil-filter device, ensure the max sewing speed to be 4500r.p.m.
4)Some key parts are special treatment, which enhance the wear-resistance of the machine.
1.Subclass
MR: Machine with Ruffling Device
WB: Machine for Attaching Waistband
PSF: Machine for shirt fronting
PSM: Machine for smocking
PSSM: Machine for simultaneous shirring and smocking
ET: Looper thread elastic model
PSET: Machine with shirring(Needle: Polyester Thread, Looper: Elastic Thread)
PQ: Machine with shirring(Needle: Polyester Thread, Looper: Polyester Thread, Elastic Thread: threading on surface of needle plate.)
PL: Machine for Attaching Line Tapes
2.Option
MD-1: Metering Device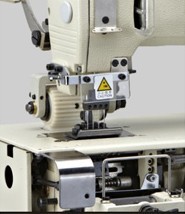 Specifications: