Product Name: Direct Drive Long Arm Top and Bottom Feed Lockstitch Machine with Automatic Thread Trimmer
Model NO.: FX-640D
Origin: Zhejiang, China
Packing: Cartons
Brand Name: FOXSEW
Product Details: Direct Drive Long Arm Top and Bottom Feed Lockstitch Machine with Automatic Thread Trimmer
FOXSEW Direct Drive Single Needle Flatbed Long Arm Top and Bottom Feed Heavy Duty Lockstitch Sewing Machine with Automatic Thread Trimmer, Automatic BackTacking, Automatic Needle Positioner, Automatic Presser Foot Lift, etc...
Applications: Home Upholstery, Leather Bags, Suitcases, Soft Luggage, Cushions, Tents, Awnings, Jeans, Travel Bag, Rucksack, Day sailing, Cotton Sails, Spray Hoods, Covers, Interior and Exterior Boat Upholstery and general canvas work.
Features: FX-640D is one of the new models of FOXSEW brand in the new millennium, which adopts link feeding, thread take-up lever and rotating hook to produce stitch type 301. The design of longer machine head offers free working space. The super needle bar stroke and super alternating presser foot makes its features of heavy duty sewing even more outstanding. Having accurate and reliable function of automatic thread trimming, automatic stitch presetting as well as automatic lubrication, which ensure smooth in running, minimum noise, minimum vibration, especially suitable for production of bags, suitcase, cushion, tent, sofa, canvas and other heavy fabric.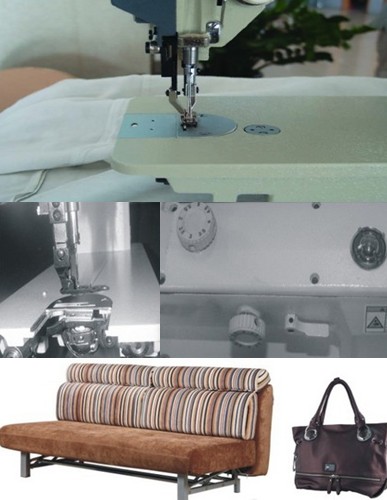 Specifications:
| | |
| --- | --- |
| Model | FX-640D |
| Max. Sewing Speed | 2200 r.p.m |
| Stitch Length | 0-12 mm |
| Needle Bar Stroke | 38 mm |
| Thread Take-up lever stroke | 73 mm |
| Presser foot lift | By Hand: 8 mm By Knee: 16 mm |
| Needle Type | DP X17 18#-23# |
| Feed Dog | 3 rows of teeth |
| Rotating Hook | Automatic Lubrication Large Hook |
| Lubrication | Automatic Lubricated |
| Auto Trimmer | Yes |
| Operating Space | 335 mm |
| Motor | Servo Motor |