Product Name: Long Arm Zigzag Sewing Machine for Spinnaker and Sail Making
Model NO.: FX-8653
Origin: Zhejiang, China
Packing: Wooden Case
Brand Name: FOXSEW
Product Details: Long Arm Zigzag Sewing Machine for Spinnaker and Sail Making
FOXSEW Long Arm Heavy Duty Zigzag Sewing Machine for Spinnakers and Windsurfing Sails Making and Repairing.
Applications: Sails, Spinnakers, Windsurfing SailS, Kitesurf, Parasail, Awnings, Boat covers, Upholstery Panels, Inflatable Products, Tents, Parachutes, Gliders, Hot Air Balloons, Bedding Covers, Quiltings and Mattress.
This machine has different stitches, like straight stitch, 1-step two points, 2-step three points, 3-step four points etc... zigzag stitches which are widely used in production of spinnakers sails, it's suitable for sewing light or medium to heavy duty spinnakers and sails; This machine is equipped with a large parallel vertical needle bar motion for stronger striking power and can easily sew sturdy webbing reinforcement and heavy duty corner patches; This long arm spinnakers and sails making zigzag sewing machine is capable of powering its needle through 7 mm of Dacron, Kevlar, Webbing, Canvas and leather; The heavy duty built-in puller behind the pressure foot helps sail makers create a smooth, even stitch on windsurf sails; A wide range of sewing threads can be used. Its modern design features: a zigzag width of up-to 10 mm and a stitch length of up-to 5 mm. Long arm zigzag sewing machine for spinnakers and windsurfing sails.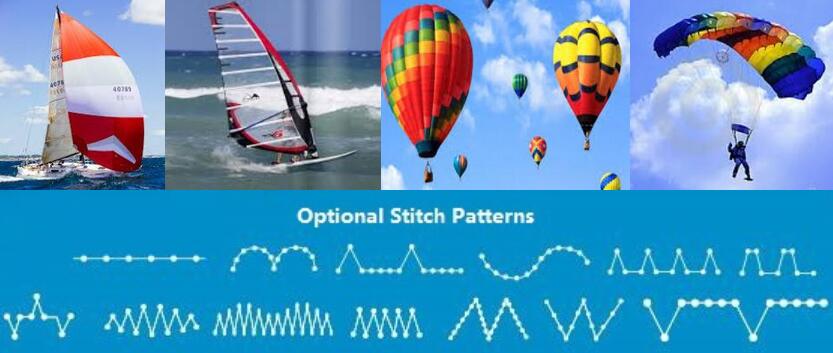 Specifications:
| | |
| --- | --- |
| Model NO.: | FX-8653 |
| Sewing Speed: | 0-2000 r.p.m |
| Stitch Length: | 0-5 mm |
| Zigzag Width: | 0-10 mm |
| Presser Foot Lift: | 0-15 mm |
| Hook Type: | Large Hook |
| Lubrication: | Semi-automatic Lubrication |